Book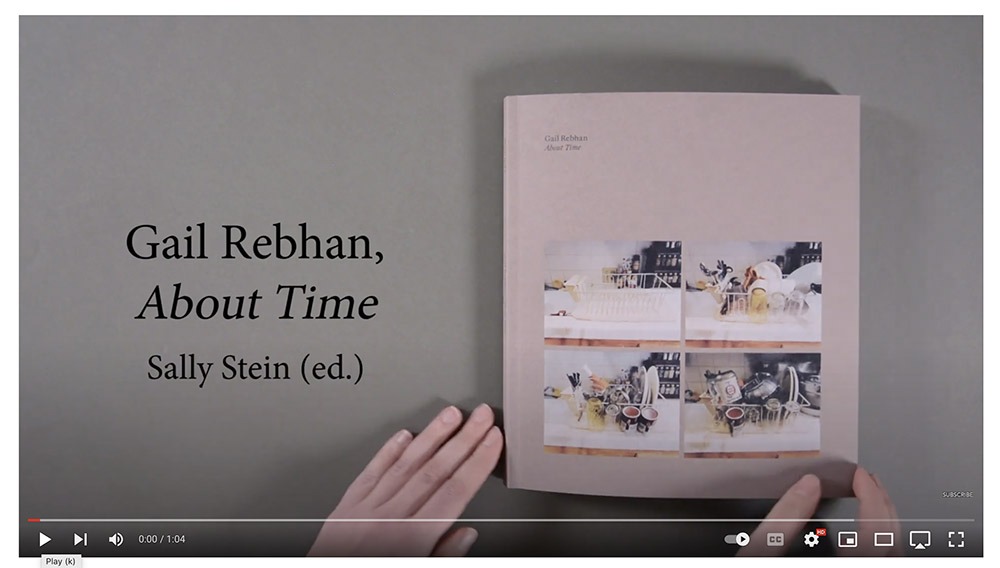 Reviews and Articles
Gail Rebhan's Frame Narratives, British Journal of Photography, February 2, 2023 by Adam Heardman
About Time, Conscientious Photography Magazine, February 13, 2023 by Jörg Colberg
MACK Books: Gail Rebhan: About Time, The Eye of Photography, February 27, 2023 by Sean Sheehan
Gail Rebhan – About Time, James Cockroft's photography blog February 27, 2023 by James Cockroft
Gail Rebhan | The Hyperconcious Cocooning of Time, Flaunt Magazine, Issue 185, 2023, by Nate Rynaski
Frieze Editor's Picks: International Women's Day Edition, Frieze, March 8, 2023, by Angel Lambo
Retrospective Exhibtion
Gail Rebhan, About Time curated by Sally Stein
American University Museum, Washington, DC
February 4 – May 21, 2023
For better or worse, nothing stays still. D.C. artist Gail Rebhan (b. 1953) knows that well, and this first museum retrospective explores the many ways over four decades she reconfigures the time-slicing medium of photography. She works with and against photography's norms so we might confront cycles of change and repetition as primary vectors of life.
To foreground the temporal, Rebhan makes strong use of discrete series and also text—sometimes as wry captions, sometimes as embedded excerpts from first-person interviews and historical records. She began by focusing on dynamics inside the home, starting with her own first-generation Jewish American family. The same interest in excavating the hidden remnants of the past led her to explore the centuries of development (not always progressive) in diverse areas of the nation's capital.
With her constant use of the camera to emphasize pressing issues in the world around her, Rebhan commemorates her passages from young adult to mother of two sons, then mutli-year caregiver of a once-dynamic immigrant father as he declines in old age, to her forthrightly activist present.
Lately, she renews the ethos of social engagement with which she was raised by harnessing her photographic skills to support a largely African American community group working to salvage a historic Black cemetery. In this same recent period, Rebhan, facing the start of her seventh decade, defies our youth-obsessed values with new studies of her aging body as a retort to the many slurs deriding the presence and commanding vision of mature women.
Sally Stein, Guest Curator
Watch a short video of the installation
Reviews and Articles
American University Museum at the Katzen Arts Center Presents Gail Rebhan: About Time, East City Art, January 30, 2023, by Editorial Team
About Time: American University Presents Gail Rebhan Retrospective, 24700 News from California Institute of the Arts, February 8, 2023 by Taya Zoormandan
Aida Rodriguez, Mother Tongue, and More Best Bets for Feb. 16–22, Washington City Paper, February 16, 2023 by Louis Jacobson

Four panel discussions complemented the exhibition
The Deeply Social Art of Gail Rebhan – Sunday February 5, 2-3PM with Jack Rasmussen, Director of the American University Museum / Steve Nelson, Dean of the National Gallery of Art's Center for the Advanced Study of the Visual Arts / Sally Stein, Curator and Professor Emerita, Art History, University of California-Irvine / Gail Rebhan, artist. Watch the video recording.


First-Generation American Visions Bridging Old and New Worlds / Saturday March 4, 2-3 PM with Monica Jahan Bose, Bangladeshi American artist and climate activist / Khánh H. Lê, Vietnamese American artist working in painting, drawing, printmaking and video / Amita Sarin, Producer of the documentary A Sacred Piece of Home / Gail Rebhan, artist with retrospective About Time / Moderated by Sally Stein, Curator and Professor Emerita, Art History, University of California-Irvine. Watch the video recording.
The Draw (& Drawbacks) of Family Connections for Women Artists & Their Art / Saturday March 25, 2-3PM with Jennie Klein Professor of Art History, Ohio University / Leena Jayaswal, Professor and Director of Photography, American University /Andrea Liss Professor Emerita Contemporary Art Historian and Cultural Theorist, California State University-San Marcos / Gail Rebhan artist with retrospective About Time/ Moderated by Sally Stein, Curator and Professor Emerita, Art History, University of California-Irvine. Watch the video recording.
Greater DC and the depiction of urban flux / Saturday April 29, 2-3 PM with Marsha Coleman Adebayo, President of the Bethesda African Cemetery Coalition / Veronica Melendez, visual artist and a founder of diasporic arts publication, La Horchata / Sarah Jane Shoenfeld, Co-Founder of Mapping Segregation in Washington and Principal Prologue DC / Gail Rebhan, artist with retrospective About Time / Moderated by Sally Stein, Curator and Professor Emerita, Art History, University of California-Irvine. Watch the video recording